Has anyone named Eric Mitchell Porat, Eric Porat, Eric Mitchell, or Eric P ever approached you with a business proposition? If so, you should consider reading this article before proceeding any further.
Who is Eric Mitchell Porat?
If you search online for Eric Mitchell Porat, you'll likely come across several business profiles of a Brooklyn-based individual, who is the CEO & co-founder of several companies. He has profiles on LinkedIn, CrunchBase, RocketReach, and many other professional networking platforms.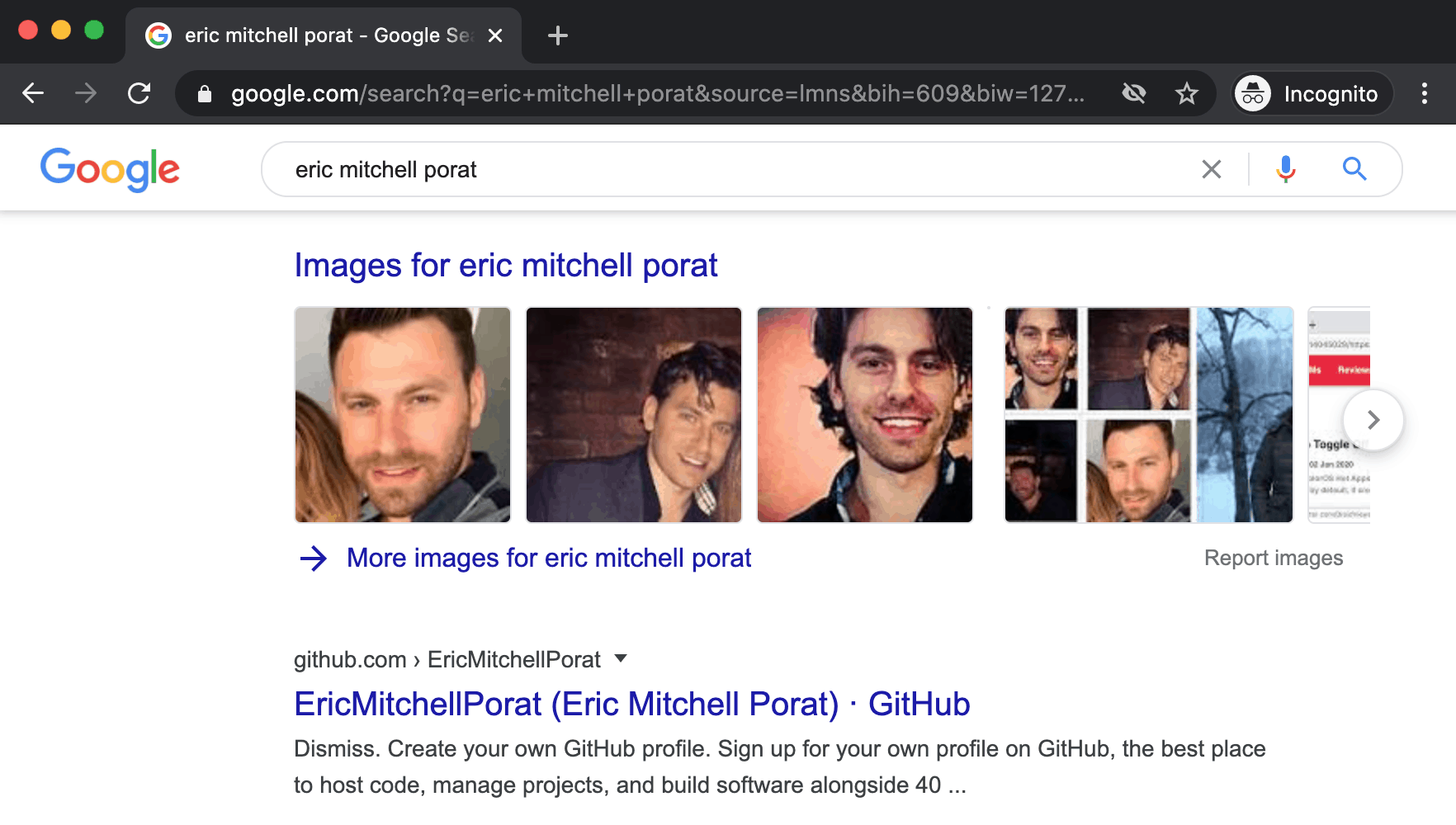 A quick search of "Eric Mitchell Porat" in Google. *Google and the Google logo are registered trademarks of Google LLC, used with permission.
All the following information is available to view publicly on the respective websites.
Full Name: Eric Mitchell Porat
Also Known As: Eric Porat, Eric Mitchell, Eric P, Eric M. Porat
Location: Brooklyn, New York, United States
Education: Bachelors in CIS, Baruch College, City University of New York (CUNY)
Email Addresses: [email protected], [email protected], [email protected]
Associated Organizations: Mutually LLC, Vayg Media, GEOIQ, One Acquire Media LLC, DroidViews, Yestoapps LLC, DiscountedPurchases, Critic Media LLC, Extension Metric, Digital Discovered
Profiles: LinkedIn, Facebook, Twitter, CrunchBase, RocketReach
Our recent experience with an individual by the name of Eric Porat / Eric Mitchell Porat and one of his companies has raised serious ethical concerns about his way of doing business. And based on all the information that we have collected so far, we feel that the individual might even qualify as a fraudster or a scammer.
---
Update: It has come to our attention that Eric Porat has approached multiple lawyers on freelancing platforms like Upwork, asking them to get this content taken down, by allegedly providing modified, misleading evidence taken out of context.
Eric even allegedly proposed bribing the authorities (including the police) for harassing us in order to get the job done. We are fortunate to know that all of the lawyers who have been contacted so far were ethical and didn't entertain the alleged request, and eventually terminated their contract after analyzing the whole situation.
Ever since the article was published, we have received numerous communications from various individuals, letting us know of their past experiences with Eric, along with sufficient evidence to corroborate their story. To protect the identity of our sources, we aren't going to disclose those details here.
---
The alleged scams of Eric Mitchell Porat
Case 1: Vayg Media Subdomain Leasing
Eric Mitchell Porat (from Vayg.com, Mutually LLC) had first approached us in mid-2019 with the proposal to take one of our subdomains on a long-term lease. We did not agree to certain terms of the contract (he was interested in our analytics data), and later he offered to purchase the entire 7labs.io domain, which we denied.
Finally, he revised his subdomain leasing proposal in February 2020, which we agreed, and then the episode did not go down well to say the least. You can read the full story about our experience with him.
Long story short, Eric Mitchell Porat and his associates utilized our subdomain without due approval, violated their own terms, and even hurt our brand. Moreover, even after making a legitimate payment, they filed a payment dispute based on false claims to reverse the transaction.
Update: Soon after this article was published, on May 22, Eric Porat's subdomain leasing website (Vayg.com) went down. As of May 27, the website is still unavailable.
During the whole experience, we came across additional information about Eric Porat from various online sources, some of which are quite intriguing.
Case 2: Alleged Suspicious Takeover of Websites like DroidViews.com
Among many of the websites owned by Eric Porat, DroidViews.com is perhaps the one with the most Domain Authority. But as per the website's previous owner, it was allegedly robbed from him.
Just after we originally published this article, Rakesh Shukla, who identified himself as the former owner of DroidViews.com, published his own experience with Eric Mitchell Porat in the comments below.
According to Rakesh Shukla, Eric Porat approached him with a subdomain leasing proposal, in a similar manner to how he had approached us. Eventually, Eric convinced him to sell the domain for a hefty sum of money, took control of the domain by making a partial payment, and then refused further payments based on allegedly breaching the terms of the asset purchase agreement.
According to Section 3.14 of the Asset Purchase Agreement between Eric Porat, Critic Media LLC and Rakesh Kumar Shukla, former owner of DroidViews.com:
"To the extent that any DNS entry associated with a website is transferred by this Purchase Agreement, the Seller warrants that no more than four percent (4%) of all traffic to the DNS entry associated with the website is determined to be invalid based upon Integral Ad Science (IAS), and further warrants that the same will remain true for the 6 months after the Closing Date."
Also, Section 7.02 of the same agreement mentions:
"The Seller must cooperate in all aspects of the Buyer's post-purchase inquiry into all the representations and warranties herein. In the event that the Seller (a) fails to cooperate or (b) any breach of any representation or warranty of the Seller set forth herein is determined to exist on or before a given Bonus Payment is due, the Buyer shall no longer be required to provide any Bonus Payments, and the Seller's entitlement to any such Bonus Payment or future Bonus Payment will cease, however the transfer of assets provided by this Purchase Agreement will remain effective."
Note: The above conditions of the asset purchase agreement has been confirmed as true by both parties involved in the agreement, i.e., Eric Porat & Rakesh Shukla.
Now, let's break down the above two sections to understand them better. According to 3.14, the seller, Rakesh Shukla, had to warrant less than 4% of all traffic associated with the DNS entry to be deemed as invalid traffic (IVT) for up to 6 months, even though the control of the domain belonged to the buyer (Eric Porat).
Invalid traffic (IVT) is something that every website has to deal with to some extent, and it's the site owner's responsibility to minimize it. As per our understanding, given the circumstances, Rakesh Shukla (who had already handed over the control of the domain to Eric Porat), had no way to minimize IVT in DroidViews.com. Moreover, he had no reason to deliberately increase IVT, as he would risk breaching the contract, and there was nothing to gain for him.
As per Rakesh, Eric was given access to DroidViews.com Analytics & AdSense data before the asset purchase agreement took place, and Eric was in regular discussion with him about the website. If IVT was really a concern for Eric, he would have ideally suggested a check for it before going through with the asset purchase agreement.
Moreover, when Eric informed about the IVT issue, Rakesh had suggested that if the domain was no longer useful to Eric, they could just reverse the asset purchase; Rakesh even offering more money than what he had originally received. But, Eric Porat allegedly denied his request, blocked him, and then disputed all of the previous business transactions made to Rakesh via PayPal.
Based on how the situation unfolded, Eric was right in his place to claim a breach of contract. But due to the way the agreement was framed, we think the buyer always had an upper hand & enough room to manipulate the situation in his favor, and legally retain control over the domain without making further payments.
We believe that Eric cleverly designed a biased agreement to favor himself in all the possible situations. And this is a common aspect that we've also experienced during our subdomain leasing episode. And this was one of the major reasons why we never agreed to sign any contract with him.
Rakesh made a huge mistake by not evaluating the consequences of the agreement and signed it, just based on trust.
If you don't understand all the terms clearly or have doubts about specific clauses, it's always recommended to consult with someone who has experience in the particular field before signing any contract or agreement.
DroidViews.com was Rakesh Shukla's primary source of income, and according to him, Eric ruined his peaceful life, and even put his family's future in jeopardy, all by gaining his trust and later exploiting him to the fullest.
We have reasons to believe that the DroidViews incident is just one of the many alleged suspicious domain takeovers that Eric Porat may be directly involved in.
Case 3: Browser Hijacking with Chrome extensions
While conducting our research, we came across a Google forum post that seemed to indicate a decent number of users reporting about a suspicious activity, where a specific set of websites were opening automatically as a new window in Chrome, and remained hidden from view. The list of such websites included igcritic.com, ppcorn.com, thedesigninspiration.com, designbump.com, and more.
This immediately led us to link this activity to Eric Mitchell, as the same set of websites are listed as partner brands on Eric's subdomain leasing website, Vayg.com, along with other sites, like Definithing.com, FunnyAnd.com, TheFunnyBeaver.com, Dreamlandia.com, Mutually.com, SoCawlege.com, NaturalHealthyLiving.com, etc.
But, we didn't stop there. Eventually, our investigation brought us to multiple forum threads, including this one, which reported that several popular Chrome extensions had been compromised with an analytics code that maliciously opened random webpages from the previously listed websites in the background.
We got in touch with some of these extension developers, who filled us in on additional details. These developers were reportedly lured by Eric Mitchell into installing an "script.js" file to help a seemingly harmless analytics-driven project associated with ExtensionMetric.com, in exchange for up to $30,000 per month.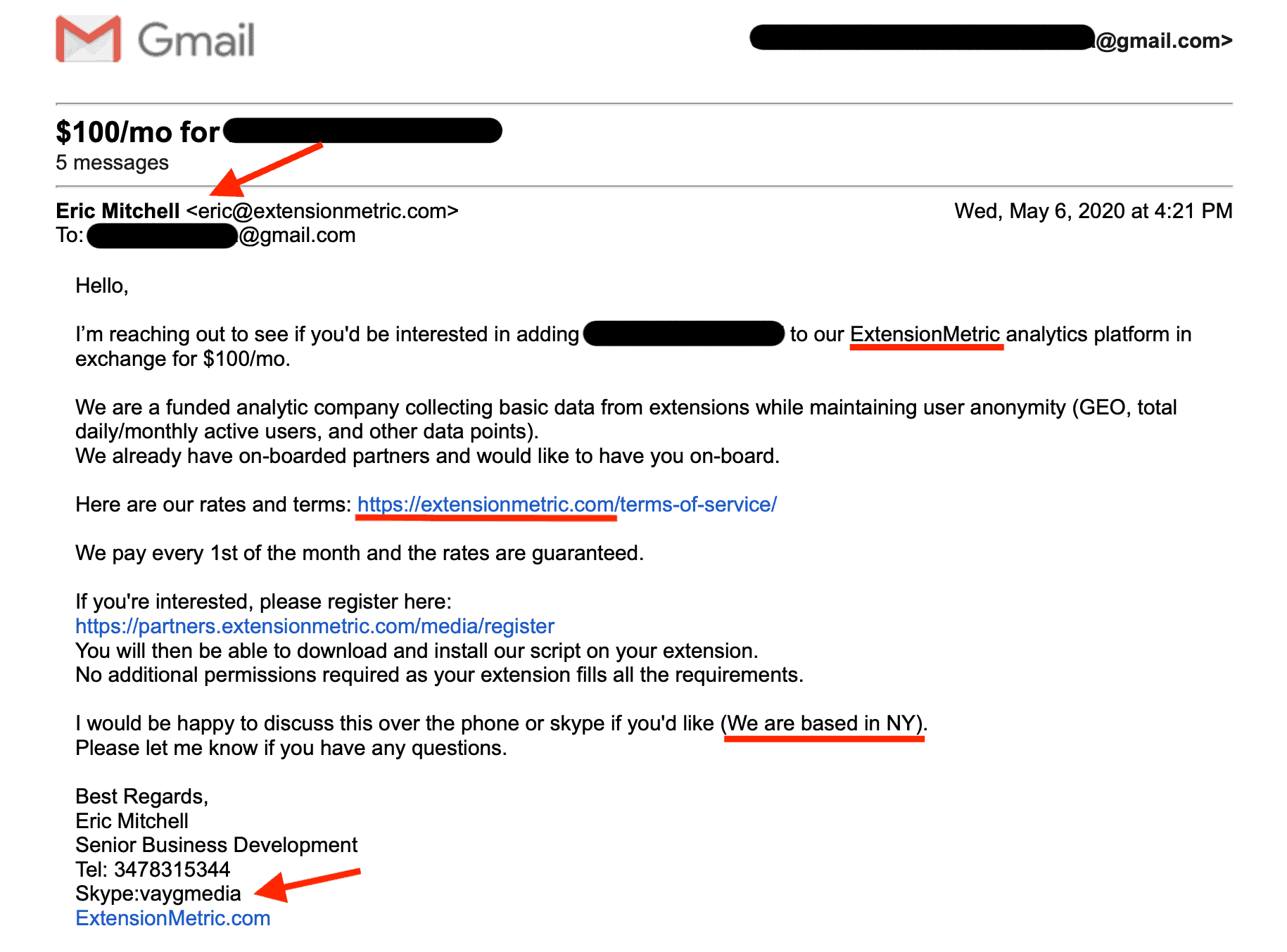 Eric Mitchell from Extension Metric is the same Eric associated with Vayg Media (Vayg.com)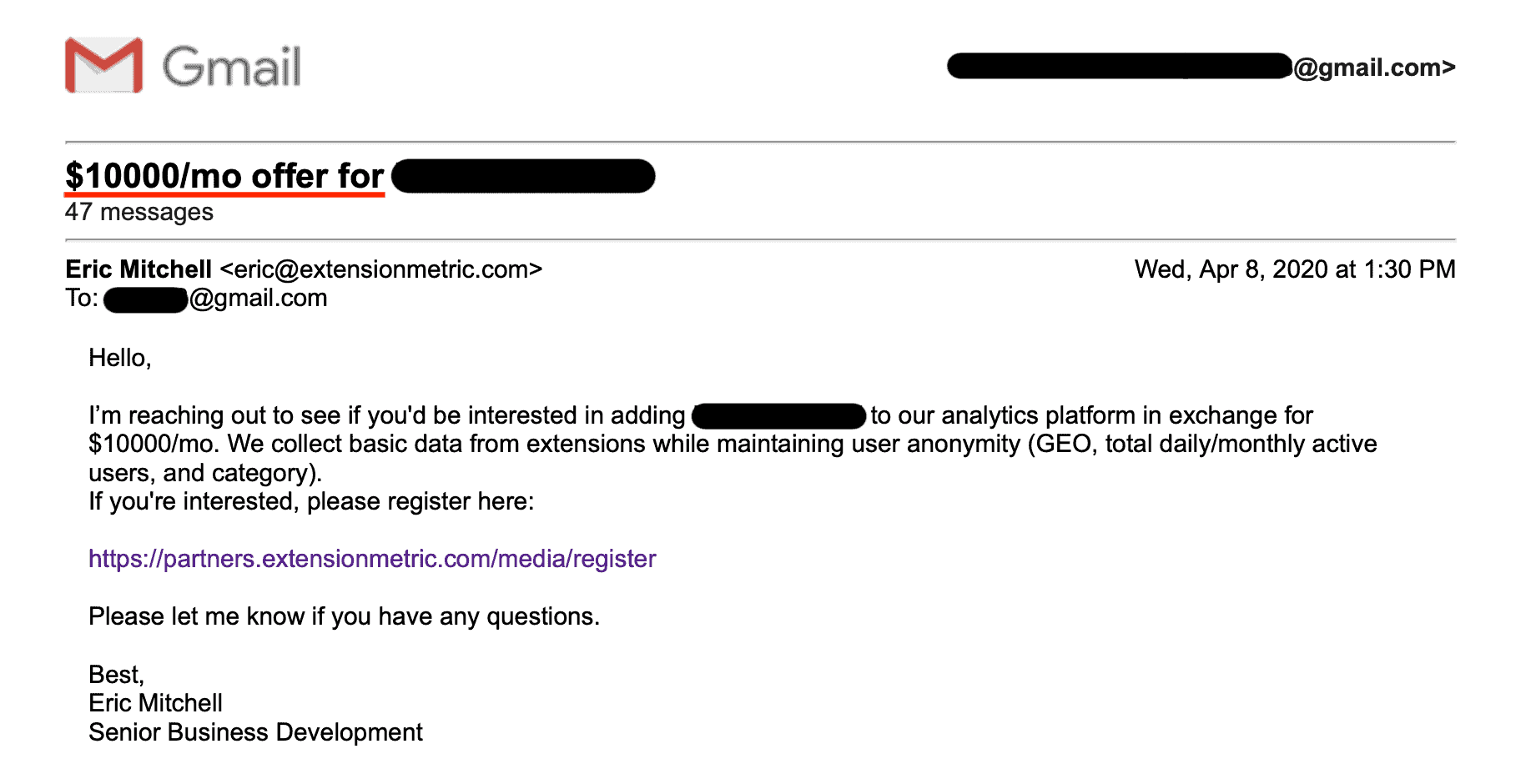 Eric offering up to $10000 a month to install his suspicious analytics script
When multiple reports started coming in against ExtensionMetric.com, the website suddenly went offline and Eric evidently rebranded it to DigitalDiscovered.com.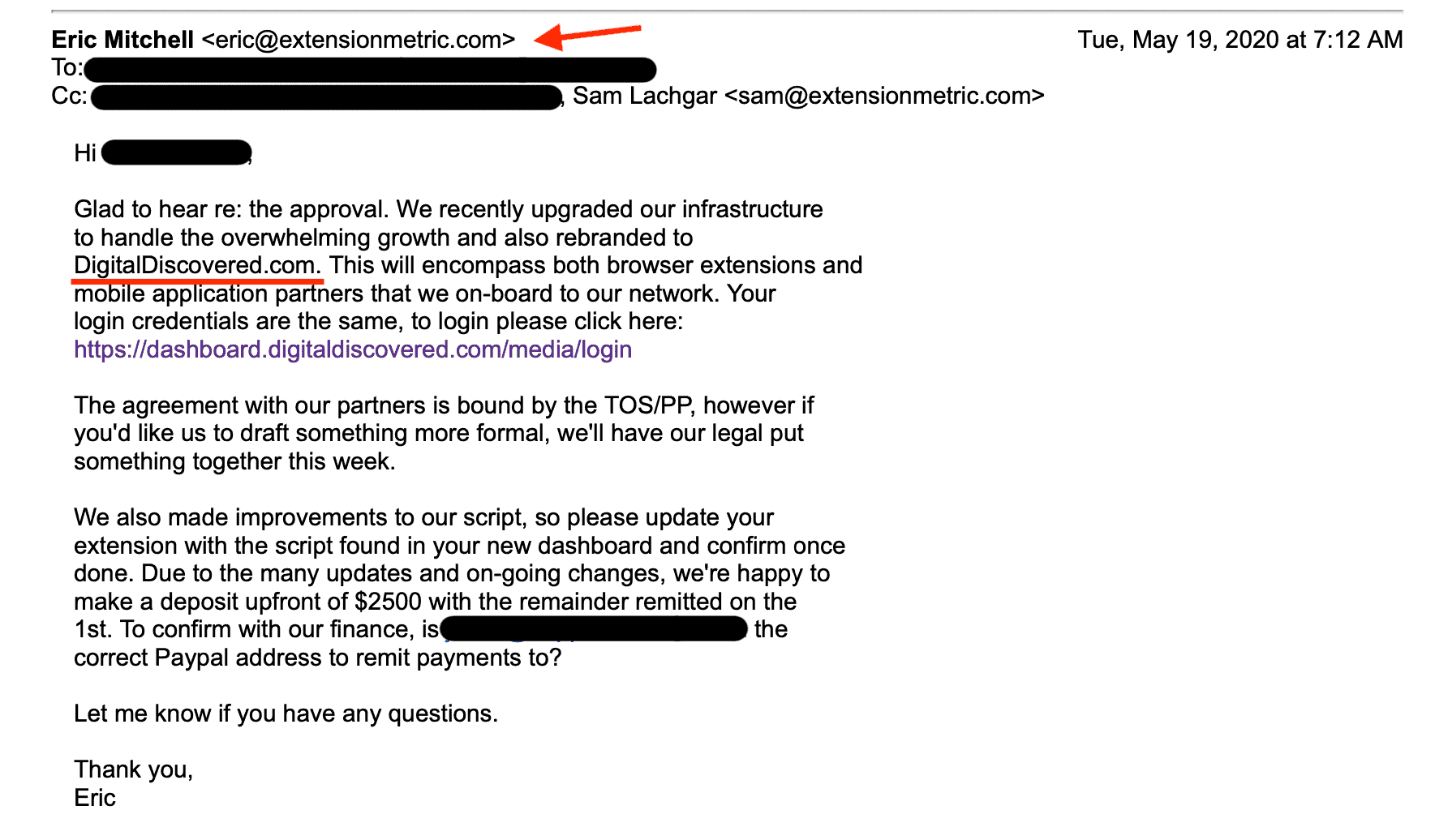 Eric Mitchell rebranding Extension Metric to Digital Discovered

Eric Mitchell asks for "tabs" permission "to open new tabs when needed"
According to our estimates, Eric's Extension Metric and Digital Discovered have allegedly hijacked the browsers of more than a million users via compromised Chrome extensions, as of this writing.
Note: We have noticed that DigitalDiscovered.com uses no-index robots meta, to prevent web crawlers from indexing the site. In case Eric pulls the plug on this one and rebrands to something else, here's a snapshot of the current website for reference.
Dear Chrome Extension developers, if you come across such shady and suspicious offers to integrate third-party services or scripts, in exchange for money or otherwise, please do report these incidents and share them within the developer community to raise awareness. Optionally, you can get in touch with us to help spread the word.
We are thankful to the developers who came forward with the information.
Dear Chrome users, if you are experiencing similar issues, where Chrome automatically opens certain webpages in the background, try uninstalling your third-party extensions. While uninstalling, if any of the extensions redirect to suspicious sites like www.nativeautomation.com, www.elemserver.com, etc., report the activity to the extension developer. There's a good chance the developer might not be aware of it.
*Names and other personally identifiable details have been redacted from the snapshots upon the developers' requests.
Case 4: Mutually LLC Fake Products
If you head to Mutually LLC's business profile on BBB.org, you'd find a bunch of similar customer complaintson the profile: the company allegedly tried to sell fake, counterfeit, or "knock-off" items to their customers.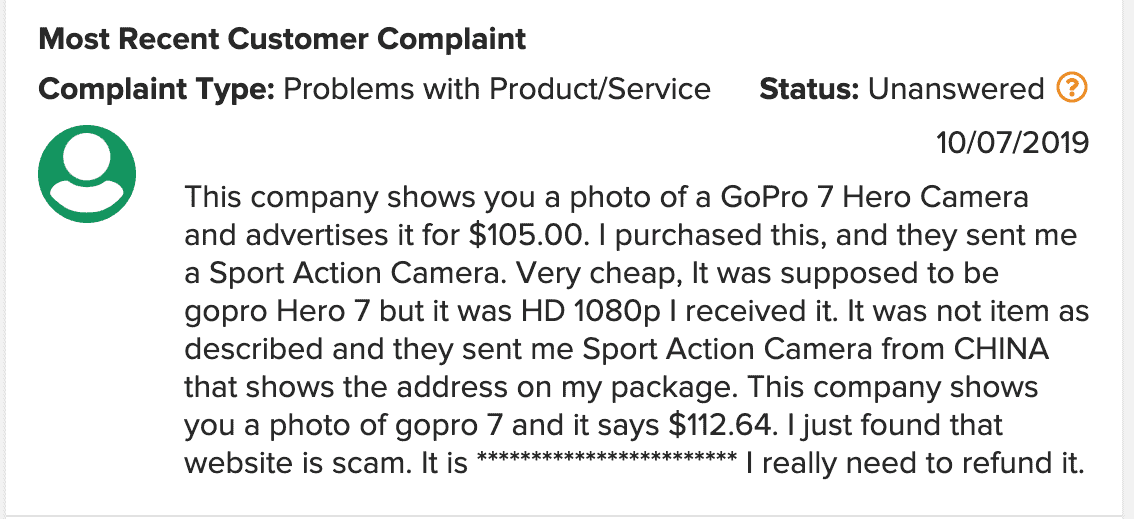 As per BBB, Eric Porat, Mutually LLC, was running this business under the domain of [https://discountedpurchases.com]. And if you check its reviews on Trustpilot, you will notice that the reviews are mostly negative, and users are reporting the business as a scam. As of this writing, this website is no longer active.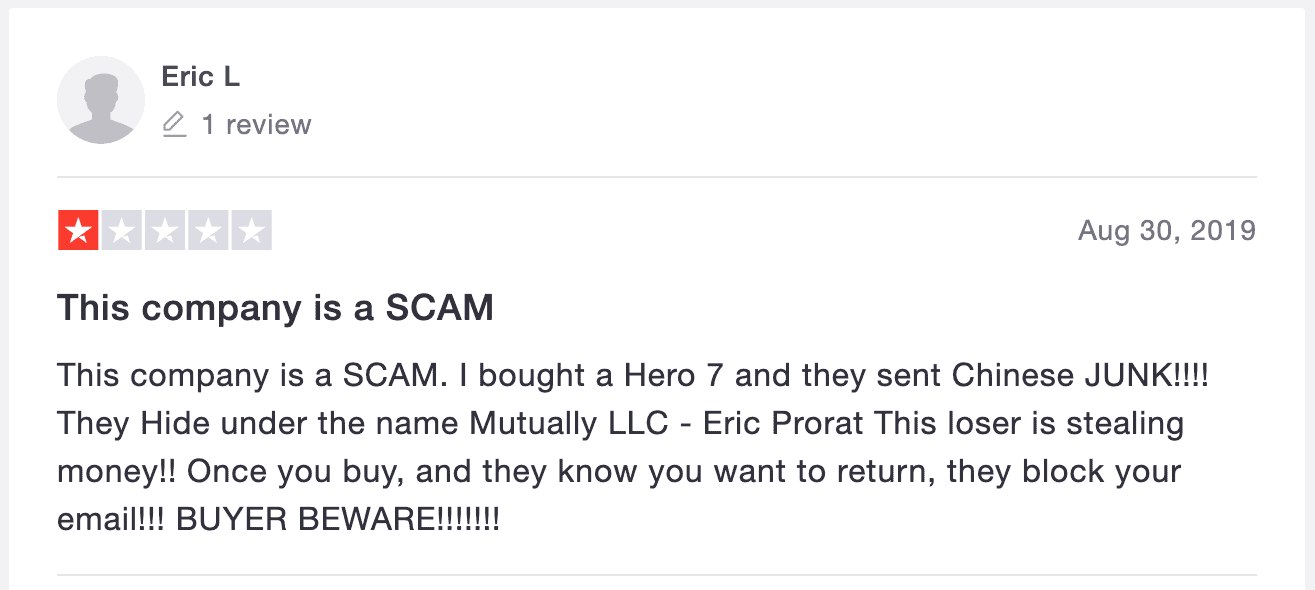 Moreover, BBB has provided the following comment on their website:
"On 09/10/2019 BBB wrote to Mutually LLC and asked the business to substantiate the following advertising claims: https://discountedpurchases.com/SAVE. BBB found that these claims were in violation of the BBB Code of Advertising. As of 10/15/2019, the business has failed to respond to BBB."
Case 5: Digital River Data Breach
In 2010, an e-commerce company called Digital River Inc., sued Eric Porat (then 19-year old) over a massive data breach. He allegedly tried to sell the user data of more than 200,000 individuals to a Colorado marketing firm for $500,000.
Digital River had obtained a secret court order to block Eric Porat from selling, destroying, altering, or distributing the stolen data. Porat had said he got the information from hackers in India but didn't say how or from whom.
References:
Eric Mitchell Porat Review: Conclusion
Based on our recent experiences and the data that we have gathered so far, we believe that Eric Mitchell Porat also tends to abruptly stop communications whenever a concern is raised by the respective parties, and allegedly exploit the buyer protection programs of payment systems like PayPal to his advantage.
Now, there was no need to drag a 10-year old case into this, and we do believe that everyone deserves a second chance. However, our recent experience with Eric Porat has forced us to take into account his past alleged suspicious activities, and consider the possibility that Eric Porat's business ethics are fairly questionable.
We believe that a person's nature is inherited in the businesses they run, especially in small and mid-sized businesses. And based on our experience, we believe that one should be aware of the above information before committing to a business transaction with Mr. Porat or his companies.
AVOID!!!
Eric Mitchell Porat is a scammer with a long history of suspicious activities. It is recommended to avoid him and his businesses.
CONS
Untrustworthy
Multiple scams
Notorious for ripping off people
Add your review
|
Read reviews and comments